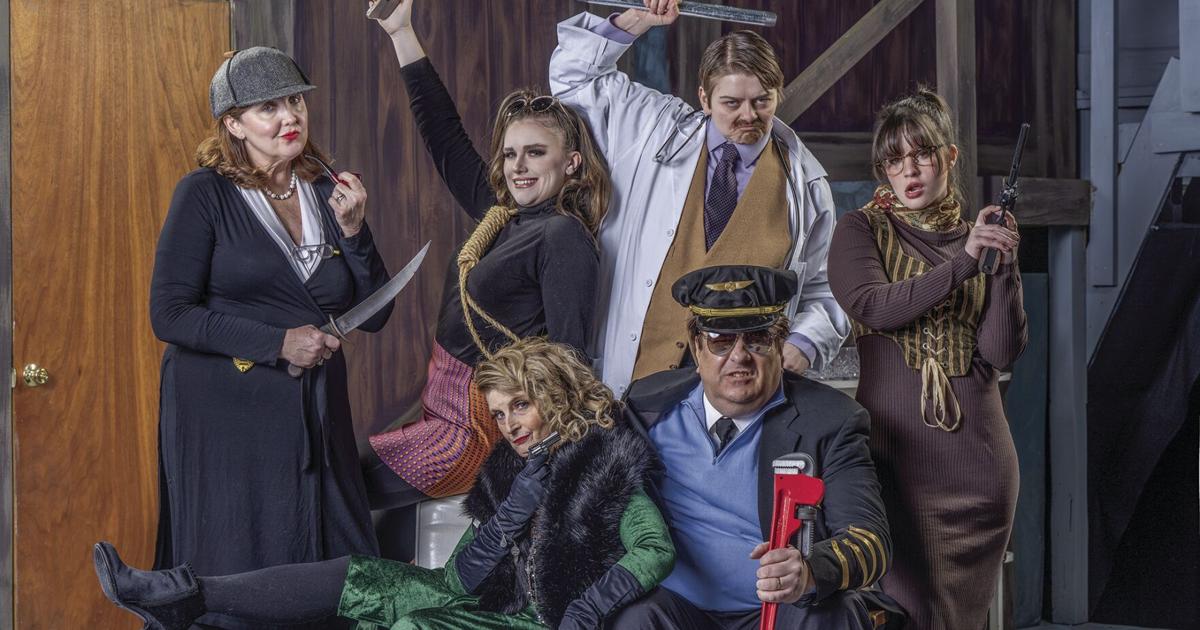 Murder and mystery abound as CTC's killer 'Whodunit' production returns to the stage | Arts & Living
SOUTH KINGSTOWN, RI – It's the same person who dies every week, but the circumstances and even the relationships that lead to the death are changing.
This is the scenario of "Whodunit? from this year's Contemporary Theater Company. An Improvised Murder Mystery" airs weekly through April 9 on the CTC Main Stage.
"Every year we try to challenge ourselves a little bit more and how can we play more with the murder format," explained CTC Artistic Director Tammy Brown.
This year, that means the improvised two-act play brings new and different relationships every week between the six cast members, which includes CTC veterans like Ashley Macamaux and Valerie Tarantino as well as Jessamyn LeClair and Kennedy Kingsley who are new in this annual production.
"Our actors weave webs of secrets, deception and mystery as we navigate through a different murder each week," CLC Executive Director Maggie Cady explained when announcing "Whodunit?" series.
The scene
Essentially, the scene takes place in an Aspen, CO, and includes the traps — real and imagined — in Snow Country. In this isolated destination, those arriving have no choice but to share the space.
As they hunker down for the night, according to the CTC's initial explanation of the planned improvised plot, they soon realize that snowstorms aren't the only thing they have to fear.
The morning sun sheds light on the murder of a guest and they discover there are more questions than answers. Are they all really suspects or are they convenient scapegoats for the real killer who is still free and walks among them?
Each week, Cole Danflue – The Doctor (Macamaux), Rita Book – The Influencer- (Kingsley), Ty Prater – The Writer (Laura Kennedy), Shirley Writagan – The Detective (Tarantino), Annie Position – The Femme Fatale (LeClair) will bring together original and usually invented actions and themes as you go along.
They will also result in the death of Earl E. Demise, the victim killed each week. He is played by Chris Moore, a CTC regular who has done other shows and also helps with music mixing and backing.
"Detective story?" is a murder mystery with over-the-top characters and personalities vying for attention through unscripted acting achieved through improvisation.
Public interest
So who is the target audience for this show and for improvisation in general at the CTC? Don't ask Cady, because she's learned over the years that all kinds of audiences flock to the theater to see where the night will take them.
This sort of detective genre is attracting popular interest as it combines curiosity and the darker side of humanity in an effort to get an audience to connect pieces together to solve the puzzle. People are fascinated by human behavior.
Crime fiction can also give resolution, insight into what motivates people.
It also offers suspense, a vicarious sense of satisfaction, and an escape from the moment and intellectually "heavy" books.
Murder mysteries reached their peak in the 1920s and 1930s. Additionally, detective fiction remains popular in books and television shows.
Brown said that the performers' interaction and the direction of the play would essentially stem from their relationships.
"Relationships are built with each piece and will be different. It gives them a little different angle to play every week," Brown said.
The performers do not rehearse the piece in advance, but only meet to discuss the playing techniques that will be used and needed for the improvised productions.
Previous "Whodunit" productions
Last year, CTC considered a virtual cast and crew reunion of "WhoDunIt? An Improvised Murder Mystery" due to ongoing COVID-19 restrictions.
A year earlier, before the pandemic, he launched his fourth annual production of "Whodunit" in January 2020 to sold-out audiences. He focused on the 1920s with the vibe and style of that era which remained a clearly defined mainstay of pop culture for an entire century.
In 2019, the show ventured into the big and bright color of the 1980s and was such a hit that the run was extended for two weeks.
CTC held its first fully improvised play in 2016 with "Slamming Doors," a production that showed there was an audience for long-form, on-the-fly storytelling.
Tickets: Choose your own price based on the CTC's new pricing system for all of its performances. Ticket prices range from $10 to $40 per person. They are also available online at contemporarytheatercompany.com and can also be purchased over the phone at (401) 218-0282 or in person at the theater.