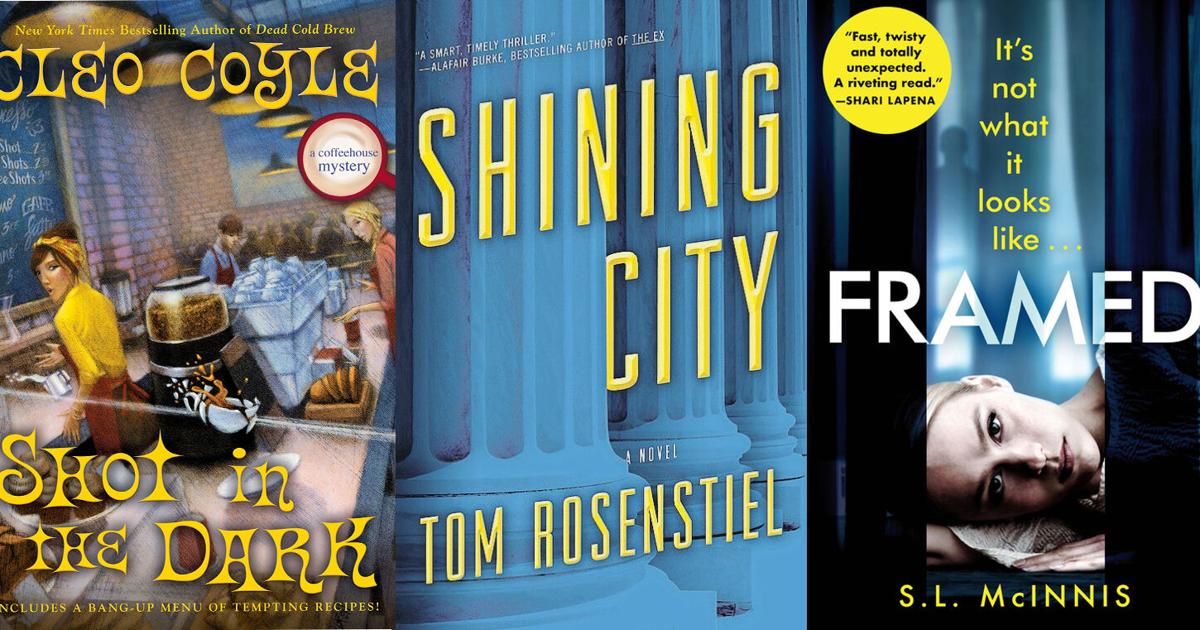 Reading Room: Dating App Daring-dos in 'Shot in the Dark' Mystery | Opinion
EDITOR'S NOTE: Starting this year, PR book columnist Thomas Grant Bruso is introducing a five-star rating system to provide an "at-a-glance" look at each book.
The dimensions are as follows:
1 star = a snoozer.
2 stars = lukewarm.
3 stars = nice.
4 stars = Excellent.
5 stars = A triumph.
★ ★ ★ ★
"A bullet in the dark"
Dating apps are all the rage in Cleo Coyle's 17th Coffee Mystery, "Shot in the Dark."
Clare Cosi, director of Village Blend in the West Village, tries to set a date for her wedding to NYPD Detective Lt. Mike Quinn, but multiple murders – and her near-death encounter – lose her chances of loving for always.
Clare teams up with her ex-husband, Matt Allegro, who helps her infiltrate while using a new dating app to catch a killer. Clare agrees that her involvement in the affair could jeopardize her future with Mike. Yet after a deadly shootout in her cafe kills an innocent passer-by, Clare can't stand back and watch other bodies, all female, begin to emerge around Greenwich Village.
As Clare begins browsing a list of suspects on the popular dating app, she finds herself in danger when she becomes the target of a hardened killer who keeps watch over her every move.
Coyle's extensive research into dating apps and popular coffee blends keeps this captivating series from going out of date. However, many details about the great cast of the characters' personal lives and relationships meander and spoil parts of the story. Nonetheless, "Shot in the Dark" is satisfying and lively.
★ ★ ★ ★
"Brilliant city"
Tom Rosenstiel's adrenaline-fueled political thriller "Shining City" digs dirty deeds into the political landscape.
"Never make an enemy of an ally," says one character, summarizing the entire novel.
The sudden and tragic death of Judge Julius Hoffman, a sitting U.S. Supreme Court judge, increases the suspense of the novel's well-paced narrative.
The main protagonist, Peter Rena, a "repairman" (someone hired to make problems go away), is called to the White House to meet with President James Barlow Nash.
Greeted by White House Chief of Staff Spencer Carr, Rena is taken to the Oval Office to discuss the president's selection process for the next Supreme Court candidate. Rena, already suspicious of the unexpected meeting, asks why her partner, Randi Brooks, who, unlike him, is a registered Democrat, was not summoned instead.
As Rena races against time and the tensions of politics in a city swamped with secrets, lies and deception, he must protect his life and that of his partner as he bypasses the treacherous world of the unhealthy obsession with Washington for power.
With a deep understanding of politics and media, Rosenstiel delivers a genuinely addictive and propelling narrative rooted in the critical issues facing our world today.
★ ★ ★ ★
"Framed"
SL McInnis' devilishly compulsive debut thriller "Framed" is a suspenseful revenge story.
Cassie and Beth have been close friends since college. Cassie has always been a wild party girl, drinking and going on. Beth was the laid-back, calm, caring, and caring type, always with her nose in a book, an avid workaholic, and aware of her school studies. She also had a fondness for music, which drives this well-written story.
Many years after college, Cassie and Beth had separated, settling down and getting married.
Beth is now a music teacher, married to an ambitious businessman and hoping to start a family. What looks like a flawless life is anything but a postcard perfect.
When a double homicide shakes the foundations of Beth's cloistered world, everything begins to fall apart. Cassie, whom Beth hasn't seen or heard in decades, suddenly appears out of the blue, hoping to meet and get acquainted with Beth's new life after all these years.
Amid the turmoil surrounding the homicide, Beth learns that Cassie may be running away from something or someone from her troubled past. As the investigation slowly unfolds, Beth realizes that Cassie is not the person she knew in college.
"Framed" is a fascinating story about friendship and family and the secrets that bind us to our past. Part thriller, part detective, readers will find it difficult to stop reading as the fast-paced narrative scrolls at a breakneck pace.
Thomas Grant Bruso is a resident of Plattsburgh who writes fiction and has been an avid reader of genre fiction since childhood. Readers and writers are invited to log on and discuss the books and writing on www.facebook.com/thomasgrantbruso